Our process for recognising international early years and childcare qualifications.
Anybody who'd like to work in childcare and early years in Wales must hold a qualification that's listed in the qualification framework.
If you'd like to work in early years and childcare in Wales, but your qualification isn't on the list because it's an international qualification, you can ask us to assess your qualification. This process maps your qualification against the Welsh equivalent and lets you know what you need to do to work in a setting in Wales.
You can find information about the process and criteria below. If you have any questions, contact us at InternationallyQualified@socialcare.wales.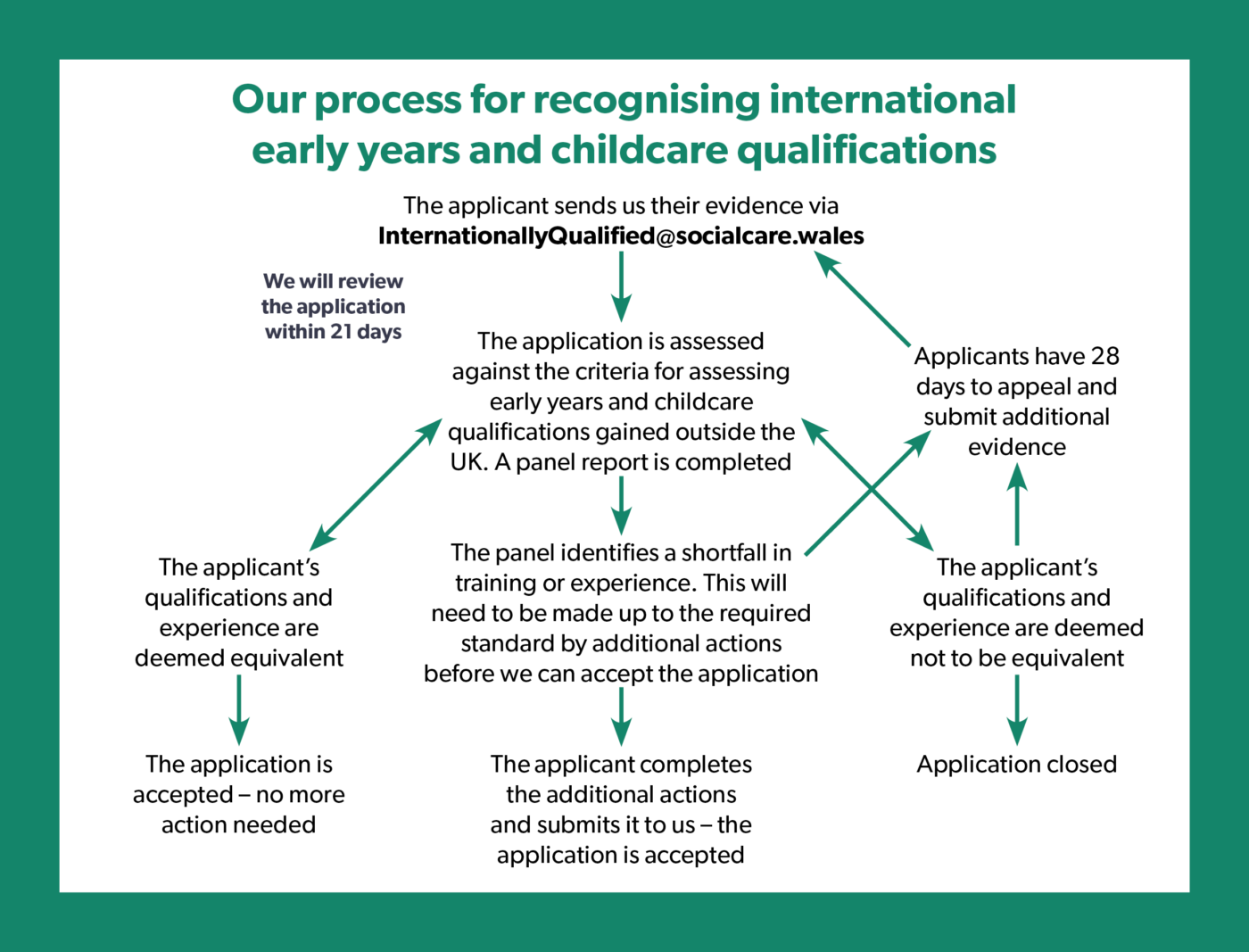 This process is also available to download here:
What evidence do I need to provide
To check your qualification we will need the following evidence for us to carry out an internationally qualified equivalency check.
a copy of the course content via a course specification – this is a list of what was included in your qualification
modules undertaken and outcome (pass/fail any grade) – what you studied and your result
evidence of competence assessed in the workplace and number of hours – your work placement or the number of hours you worked in a childcare setting including how you were assessed eg observations
certificates of completion – a copy of your final certificates.
The info above needs to be emailed to InternationallyQualified@socialcare.wales.
We cannot process an application without this evidence.
What happens after I submit my evidence?
Once we have all the evidence we require we carry out a qualification check.
There can be three outcomes from this:
Qualification is deemed equivalent and no further action is required.
Qualification is not equivalent but compensation measures can be undertaken to make up shortfalls. This could include placement time, completion of the All Wales Induction Framework or other requirements.
Qualification is not equivalent and full Welsh qualification is required.
We aim to complete the check within 21 working days from receipt of all the required evidence and will notify of the outcome within that time. If further evidence is requested by us, or the candidate wants to provide additional evidence as part of an appeal, this will take 21 days from the day the request is made.